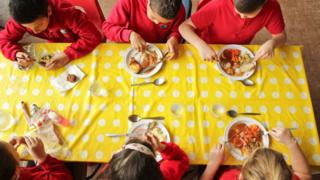 One in ten young people in the UK, aged between five and 19, is obese, according to new research that looks at obesity trends in over 200 countries.
It's not always easy to tell if your child is overweight – especially as even slimmer people are heavier than they would have been 10 years ago.
Consultant paediatrician Prof Mary Rudolf, who advises the governmental forces on obesity, says many mothers would not know that "a healthy 10 -year-old's ribs should be clearly visible – many parents would consider that such small children was quites underweight".
How do you know if your child is obese?
The "most robust" way is to check their body mass index( BMI) to see if their weight falls within the healthy scope for their height – according to the Department of Health.
All children in England are measured and weighed for their BMI in reception class( aged four to five) and in year six( aged 10 to 11 ), under the government's National Child Measurement Programme.
Some local authorities send letters notifying parents of the result. Generally, the higher the BMI, the greater the risk of medical problems.
If your local authority does not do this, you can check your child's BMI employing the NH'Ss BMI calculator – you will need to know their height and weight.

How you can help if your child is obese: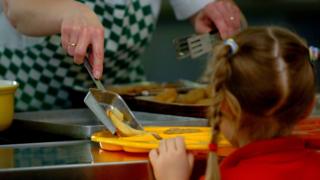 Lead by example
Experts believe one of the most powerful ways to encourage your child to eat well and be active is to do so yourself, as children learn by instance.
Research cited by the NHS in 2009 determined that the risk of a girl being obese at the age of eight was significantly raised – a ten-fold increase in fact – if her mother was obese.
The risk for a boy was increased six-fold if his father was obese.
NHS Choice advises that any changes made to a child's diet and lifestyle are much more likely to be accepted if the changes involve the whole family.
Its list of 10 tips-off includes advice such as eating together at the table, banning sweetened drinkings, preparing more snacks at home or choosing healthier takeaways.
Encourage exercise
Children are recommended to have 60 minutes of exert a day – but this does not have to be done all at once.
It can be done in several short 10 or five-minute bursts of activity throughout the day.
Overweight children do not need to do more exert than slimmer children, as their extra body weight means they will naturally burn more calories for the same activity.
Swapping the car for walking or cycling on small journeys is seen as an easy way to get the whole family moving.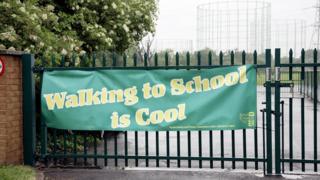 Eat healthily
Children, like adults, should aim to eat five or more portions of fruit and vegetables every day.
Experts say unsweetened 100% fruit juice, vegetable juice and smoothies should only count as one section of a child's five a day, because of the high level of sugar they contain.
They recommend a combined total of no more than 150 ml a day – which is one small glass.
This is because when fruit is mixed or juiced it releases natural sugars which increase the risk of tooth decay, so it is also best to drink fruit juice or smoothies at snack times.
Limit sugar
The NHS says many children are getting half of their sugar intake from sweetened soft drinks and unhealthy snacks.
For example, one can of coke can have up to nine cubes of sugar in it.
But the maximum daily quantities of added sugar for children are:
4-6 years old – 5 cubes of sugar or 19 grams 7-10 years old – 6 cubes of sugar or 24 grams over 11 – 7 cubes of sugar or 30 grams