Eradicating exemptions seems fairer than letting athletes to use artificial means of lifting themselves back up to their natural level of performance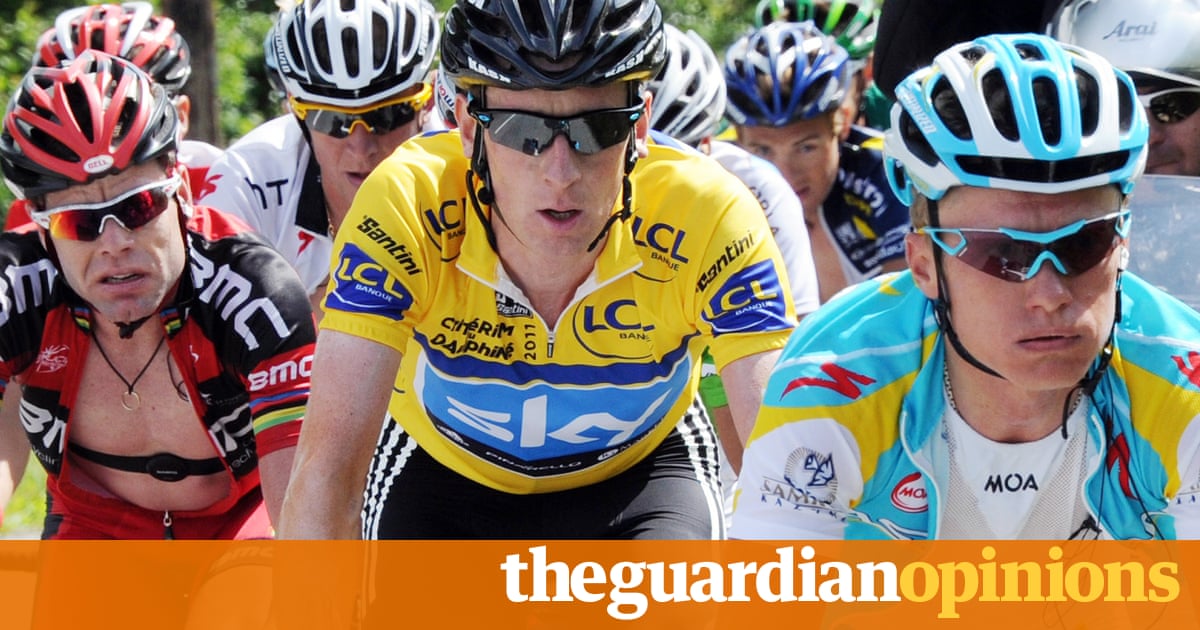 In most optimistic periods, the news that Dr Michele Ferrari's appeal against a doping conviction was turned down by an Italian court this week would have felt like a superfluous postscript to a story whose denouement had been uncovered years ago. Instead, the decision to uphold the verdict on the man who introduced Lance Armstrong to EPO seems like a footnote to a narrative that has simply moved on.
For a while after Armstrong's fall it seemed as though enough good work was being done to permit the provisional victory of hope over ingrained scepticism when it came to the use of performance-enhancing substances in cycling. And no one made a louder proclamation of a desire to play a part in that transformation than the leaders of Team Sky.
So when cloud of doubt started to gather over the men in black, the effect was doubly damaging.
Last Sunday's hour-long BBC2 documentary, titled Britain's Cycling Superheroes: What Price Success ?, spent most of its period sketching a background that would be familiar to those with any interest in the subject. In many respects, however, the programme manufacturers failed to move the story forward.
The mystery of the contents of the notorious Jiffy bag couriered to Sky's Bradley Wiggins by an employee of British Cycling was not solved. The repudiation of BC's Dr Richard Freeman to give evidence on that and other matters was not discussed. The doctor, having pleaded stress-related illness when declining to seem before a parliamentary select committee, a UK Anti-Doping inquiry and his employers' own disciplinary hearing, apparently conveyed a willingness to be interviewed on the programme, before changing his mind.
The possible conflict of interest between British Cycling and Team Sky, during the course of its long period in which their functions and personnel overlapped, was mentioned only in a postscript.
It was left to the Daily Mail, the morning after the programme used to go, to reveal that a Lancashire-based medical supplyings company that sent a batch of testosterone patches to BC's headquarters in 2011 was refusing to answer questions.
What justified the programme's existence was an interview in which Shane Sutton, Dave Brailsford's former chief lieutenant on the coaching side, was asked about the therapeutic use exemptions( TUEs) that enabled Wiggins to be injected with Kenacort- a proprietory name for triamcinolone acetonide, an asthma medication that also provides significant performance benefits- before several of his biggest races.
" If you have an athlete who is 95% ready and that little 5% niggle or injury that is troubling him ," Sutton said," if you can get that TUE to get him to 100 %, yeah, of course you would in those days ." Asked if find the gains might entail getting a TUE, he chuckled. "Yes," he responded," because the rules allows researchers to do that ."
Brailsford justified the use of TUEs by saying that if all the relevant authorities had signed off an application, and if it was " all clear and above board", he was " comfortable ".
But what he seemed to be comfortable with was the permission given by the authorities rather than the decision by the team personnel- the doctor, the coach and the athlete himself- that had gone into making the formal request.
And that's where the problem lies. As two examples, Wiggins suffers from allergies; there's no doubt about that. But when does seasonal hay fever shade into full-blown asthma? When is it necessary to turn from a mild decongestant to something stronger, which in this case happens to offer benefits going beyond a mere return to fitness?
In the view of David Millar, a former user of Kenacort, Team Sky was clearly" gaming the organizations of the system ". This claim could be taken in conjunction with Brailsford's desire, carried near the beginning of the documentary, to turning Team Sky into" the SAS of the Olympic world"- a statement emphasised with one of his characteristic chopping hand gestures, intended to convey managerial decisiveness.
The SAS moves warfare to its moral restrictions behind a veil of secrecy. Sutton's TUE-driven push from 95% to 100% could be seen in a similar light.
The " gaming" of TUE certifications raises questions about the whole system of permitting athletes to compensate for temporary or permanent medical conditions. Like the use of replacements in rugby and replaces in football, or the often flagrantly strategic use of medical time-outs in tennis, TUEs are capable of distorting sport in ways that should arguably be seen as unacceptable.
Shouldn't endurance- and its outcome, exhaustion- be an intrinsic part of athletics like these? Human frailty has always been part of the appeal of sport to the spectator, from the collapse of Dorando Pietri at the end of the 1908 Olympic marathon at White City, which so moved the watch Queen Victoria, to Venus Williams's disastrous 0-6 second defined against Garbine Muguruza in this year's Wimbledon final, which may or may not have been provoked by the unpredictable and debilitating effects of Sjogren's syndrome, with which she was diagnosed some years ago.
Removing the consequences of anything other than perfect fitness is an indulgence not only to athletes but to their coach-and-fours, who are interested nothing less than the realisation of their dream of 100% of performance 100% of the time.
But people aren't like that: their bodies tire and their spirits weaken in ways fundamental to the dynamic of a proper contest.
There's a good case to be made for eradicating TUEs altogether and letting nature take its course. Come as you are, competitors would be told, and accept the consequences of your physical condition on the day.
That seems a fairer basis for sport than letting athletes to use artificial the ways and means of lifting themselves back up to, and perhaps beyond, their natural healthy level of performance.
The journalist Richard Moore, a consultant to the BBC documentary, pointed out to me this week that a total ban on TUEs would entail denying Alex Dowsett, the former British day trial champ, who suffers from haemophilia, the medication that permits him to compete.
But exceptions could be made for certain permanent and congenital conditions whose treatment carries no threat of artificially improved performance.
It's a subject clouded with confusion and ambiguity, even among the well-meaning. When Julie Harrington, the recently appointed chief executive of British Cycling, was asked to comment on Sutton's statements, she carried her letdown but announced that not one current British rider was on a TUE.
Well, they wouldn't be, would they? It's November.
Read more: www.theguardian.com