Peter Sagan took his second phase win by winning the 204.5 km fifth stage, while Luke Rowe snatched an anti-Sky flag from a fan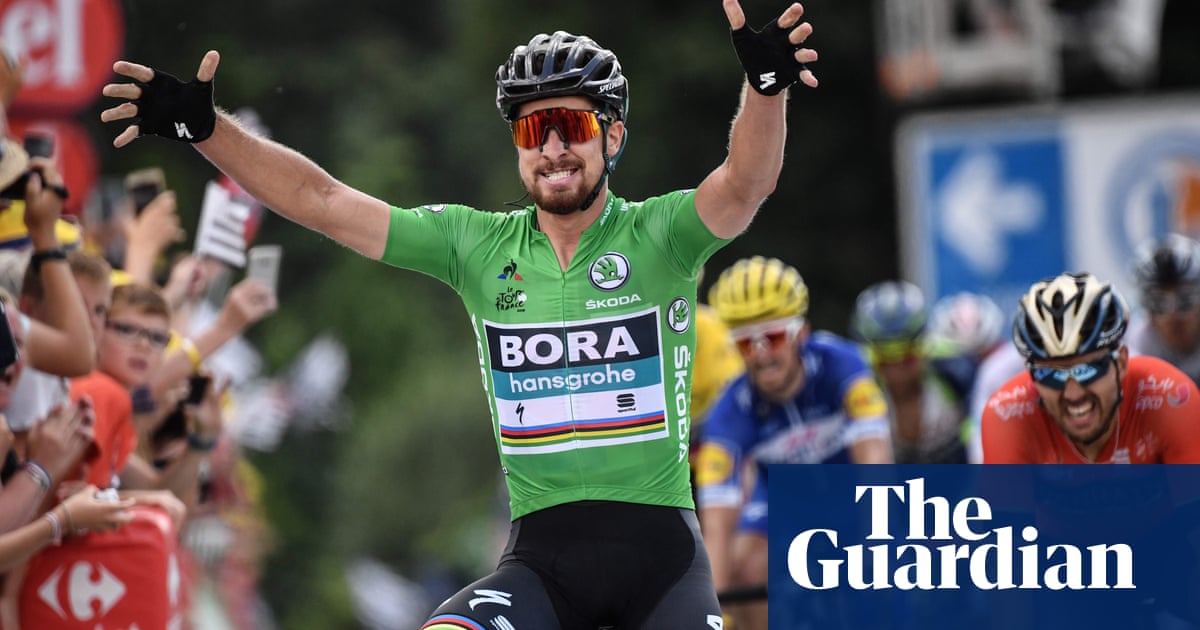 Tensions at the Tour de France around Chris Froome and his Sky teammates demonstrated little sign of abating on Wednesday. The defending champ was booed once again at the beginning village for stage five, and a French fan holding up a" Sky- Go Home" banner outside the Team Sky bus had it snatched out of his hands by Froome's teammate, Luke Rowe.
Asked immediately afterwards by reporters about the incident, Rowe denied any participation." I don't know what you mean. It wasn't me ," he said.
After the finish in Quimper, however, in which Peter Sagan took his second phase win of the 2018 Tour, Rowe elaborated." The fan had a sign that said' Sky- Go Home '," he said.
" When I went to sign on I rode past him, he was various kinds of laughing about it, I was laughing about it, he's stood next to his son in a Team Sky jersey, and I grabbed it off him ."
" It wasn't meant to be malicious or anything ," Rowe said." I don't think he was too bothered ." Asked what he had done with the sign Rowe said:" It was laminated so, you are familiar with, #passonplastic- I put it straight in the recycling bin which is I suppose where it belongs. I don't think I have to be sorry for anything, do I? It was no big deal- simply a bit of banter ."
However the fan, Didier Bregardes from Lorient, told another story." The rider came over, quickly grabbed my placard and hurled it down ," the Frenchman said." I've nothing against Froome or the riders but it's the waythe manager of Sky, Dave Brailsford, dealt with the Froome case. It's insulting what Brailsford said about[ the UCI president David] Lappartient, about him being a mayor of a small town ."
For Team Sky their safety during the course of its Tour remains a concern, according to Brailsford." We've got young women in the team that come and is in favour of VIPs and normally they drive around on their own, but I can't allow that to happen in this race ," he said.
But Brailsford was more conciliatory than earlier in the race." It was blown out of proportion ," he said of his comments on Lappartient." I was just trying to address a few points- it wasn't meant to be insulting, it wasn't meant to be confrontational. It was just to try and raise awareness around the safety of our riders here in France. I think the mayor's done a fantastic chore in his town, as all mayors are doing in their towns. I don't want anybody to get the wrong objective of the stick ."
Read more: www.theguardian.com