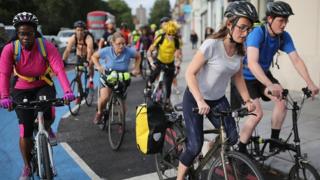 Almost three-quarters of women in seven UK cities never ride a motorcycle for local journeys, despite having a positive perception of cycling, says a survey.
More than 7,700 residents of Belfast, Birmingham, Bristol, Cardiff, Edinburgh, Newcastle and Greater Manchester were surveyed for Sustrans.
"Most of our cities are failing to design roads and streets for women to cycle, " the charity said.
It says more dedicated routes would encourage people to ride bikes.
The cities surveyed are so-called Bike Life cities – part of a UK-wide assessment of cycling.