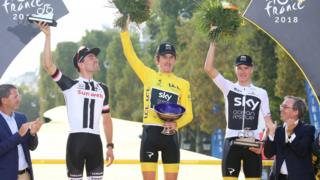 Geraint Thomas is appealing for thieves to return his Tour de France trophy after it was stolen from a cycle depict.
Police are investigating the stealing of the Coupe Omnisports – presented each year to the winner of cycling's most famous race.
It was taken after Thomas's Team Sky loaned the trophy to sponsors Pinarello to display at The Cycle Show in Birmingham.
Mr Thomas said: "The trophy means a lot to me and to the team."
The black and gold handmade trophy was presented to the Welshman this summer when he became merely the third Briton to win the Tour de France.
'Important'
It was put on display by Team Sky's Italian bike manufacturer Pinarello at the NEC between 28 and 30 September.
The trophy was snatched after being "momentarily left unattended" during the clear-up after the show.
Thomas said: "It is incredibly unfortunate that this has happened. It goes without saying that the trophy is of fairly limited value to whoever take it and hopefully[ they] will have the good grace to return it.
"A trophy is important, but clearly what matters most are the amazing memories from this incredible summer – and no-one can ever take those away."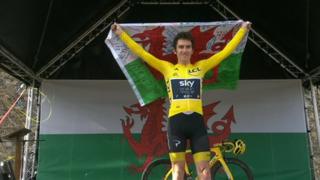 The bowl was displayed alongside the other Grand Tour trophies – Vuelta de Espana and Giro d'Italia – won by Thomas's team-mate Chris Froome.
Richard Hemington, managing director of Pinarello, said the company had apologised to Thomas.
He added: "We are obviously devastated about this. We accepted full responsibility. Obviously we all hope that the trophy can be recovered."
Team Sky said it was liaising with all relevant parties to agree on the best course of action to resolve the issue.
West Midlands Police said the trophy is believed to have been taken sometime between 18.30 and 19.30( GMT) on 29 September.