The Catalan capitals revolutionary new strategy will curtail traffic to a number of big roads, drastically reducing pollution and turning secondary streets into citizen spaces for culture, leisure and the community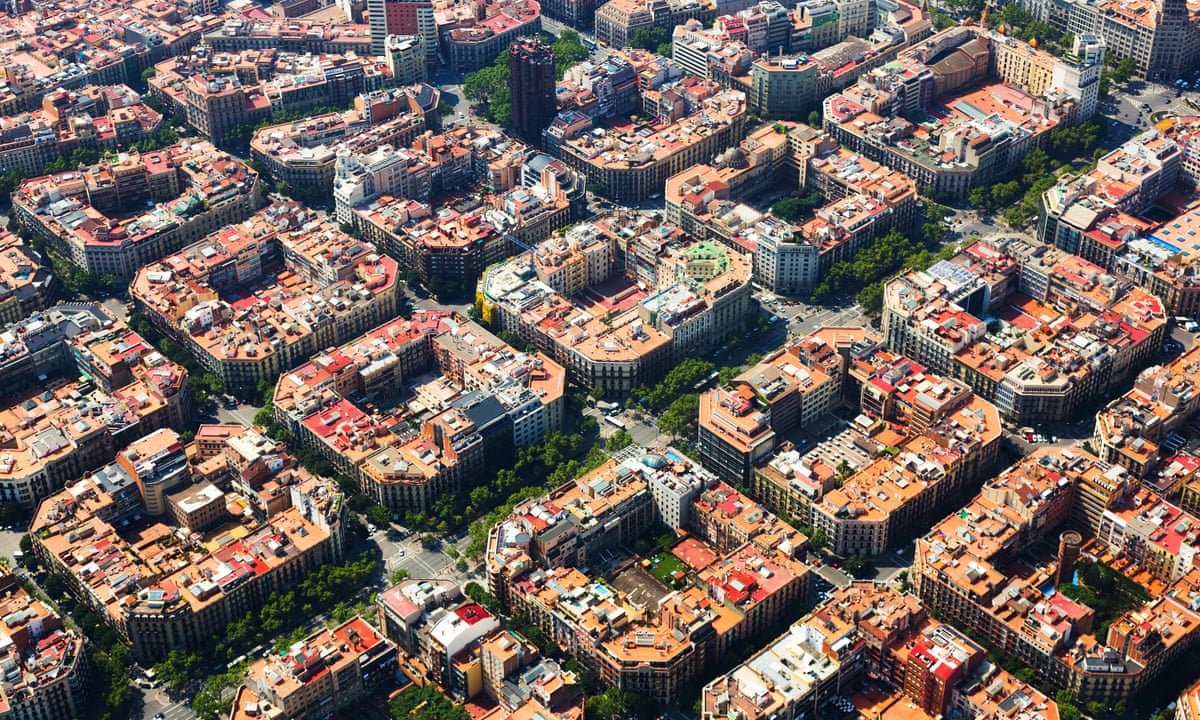 In the latest endeavor from a big city to move away from automobile hegemony, Barcelona has ambitious plans. Currently faced with excessive pollution and noise levels, the city has come up with a new mobility plan to reduce traffic by 21%. And it comes with something extra: freeing up virtually 60% of streets currently used by vehicles to turn them into so-called citizen spaces. The scheme is based around the idea of superilles ( superblocks) mini neighborhoods around which traffic will flow, and in which spaces will be repurposed to fill our city with life, as its tagline says.
This plan will start in the famous gridded neighbourhood of Eixample. That revolutionary design, engineered by Ildefons Cerd in the late 19 th century, had at its core the idea that the city should breathe and for both ideological and public health reasons planned for the population to be spread out equally, as well as providing green spaces within each block. Reality and urban planning have, however, got the best of it, and as the grid lines became choked with automobiles, the citys pollution and noise levels have skyrocketed. What was once a design to stimulate Barcelona healthier , now has to be dramatically rethought for the same reasons.
According to several studies, air pollution alone causes 3, 500 premature deaths a year in Barcelonas metropolitan area( with a population of 3.2 million ), as well as having severe effects on local ecosystems and agriculture. Barcelona and the 35 municipalities in its surrounding region have persistently failed to meet EU-established air quality targets.
A study from the local Environmental Epidemiology Agency determined that 1,200 demises could be prevented in the city yearly merely by reaching EU-mandated levels for nitrogen dioxide levels( this would mean a five-month rise in life expectancy ). Add to that an estimated 18,700 fewer asthma assaults, 12,100 fewer cases of acute bronchitis and 600 fewer cardiovascular-related hospitalisations, and their own problems becomes apparent for a city with a population of 1.6 million. Traffic is also the first cause for noise pollution in the city; 61% of its residents lives with noise levels higher than those deemed healthy by legislation.
The council also cites road accidents( 9, 095 last year, 27 of which were fatal ), sedentary lifestyles( one in five children in Barcelona are overweight or at risk of reaching that nation ), and the lack of green spaces as reasons driving the plan. The city has only 6.6 sq metres of green space per inhabitant( with the above figures standing at just 1.85 in Eixample and 3.15 in Grcia ), closer to Tokyos three than to Londons 27, or Amsterdams staggering 87.5. The World Health Organisation indicates every city should have at least 9 sq metres per capita.
Barcelonas new plan consists of creating big superilles through a series of gradual interventions that will repurpose infrastructure project, starting with traffic management through to changing road signs and bus routes. Superblocks will be smaller than neighbourhoods, but bigger than actual blocks. This will first be applied to Eixample neighbourhood and others like Sant Mart, which largely follows the same grid pattern.
In Eixample, a superblock will consist of nine existing blocks of the grid. Car, scooter, lorry and bus traffic will then be restricted to simply the roads in the superblock perimeters, and they will only be allowed in the streets in between if they are residents or local industries, and at a greatly reduced velocity of 10km/ h( typically the speed limit across the city is 50km/ h, and 30 km/ h in specific areas ).
Read more: www.theguardian.com