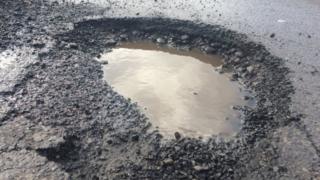 Freezing temperatures will lead to more potholes on UK roads, as snowfall and ice break up road surfaces, says the RAC.
Between Sunday and Tuesday, the RAC received 218 calls for breakdowns relating to potholes, compared with 104 between February and March.
It says the extreme cold weather has caused freezing water to get into cracks on already bad road surfaces.
The Department for Transport said it was investing PS23bn on roads in England.
Local councils fix a pothole every 19 seconds, according to the Local Government Association.
Driving into them can violate suspension springtimes, damage shock absorber and distort wheels.
Parts of Wales and Yorkshire are facing fresh snowfall as schools are closed , flights are interrupted and drivers advised not to travel .~ ATAGEND