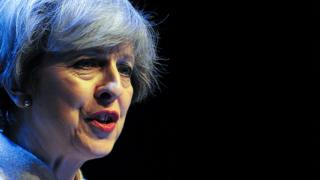 It was a very different Prime Ministerial speech. Gone, mostly, were the seven-word sentences to which we became accustomed in the past. Gone too the accumulation of soundbites, each demanding an ecstatic ovation.
Indeed, instead of punching up the applause lines, Theresa May seemed somewhat astounded when the audience clapped. A little like a modest but eager archaeology lecturer, testing a new hypothesi about Pictish discovers.
There were other surprising cameo elements too. She listed the proclaimed characteristics of the United Kingdom. Those being "solidarity, unity, family."
Did that formulation audio simply a tiny bit, well, Socialist? Or even Jacobin? Behave yourself. Mrs May was simply intent on arguing that there was more to the Union than purely an economic or trading arranging.
Theresa May stimulates suit for 'our precious Union' 'No support' for second Scottish referendum Image caption Author JK Rowling who began penning her famous Harry Potter series in an Edinburgh cafe