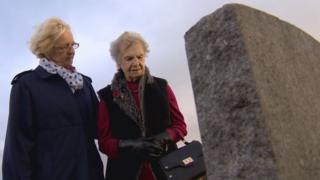 For more than 70 years, Isobel Harling has tended the tombs of Indian servicemen who oppose and died during World War Two.
In Kingussie, nine graves belong to men who served in Force K6, a Muslim transport corps who rode mules and delivered supplies to front-line soldiers.
Mrs Harling hopes the families of the men interred at this graveyard know that their final resting place is well seemed after.
She lost her own brother during the war, when he was shot down in Leuven in Belgium, and she has often thought about the people tending his grave.
Her own loss influenced her dedication to the tombs of the Indian soldiers.
"They came over from home and they dedicated their own lives for us. It's only right that we should remember them. The people in Leuven look after their graves, so it's only right that we look after the sons that were buried here."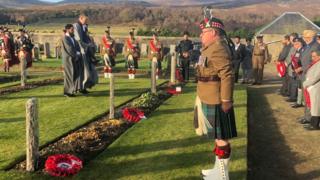 Mrs Harling first started visiting the tombs in her early 20 s, often cycling to the graveyard by herself.
When the local gravedigger noticed her tending the tombs, he told her not to bring any of her own equipment because she could use his while she was there.
With help from the gravedigger, she has expended years cutting the grass, placing blooms on the tombs and maintaining the cemetery tidy.
Now in her 90 s, she regrets that she has had to slow down a little.
Mrs Harling has never gratified the families of the men interred at Kingussie but she hopes the families know the graves are being cared for in the Highlands.