LA Galaxy midfielder faces retrospective prohibit; DC United render their finest display of the season; Bradley Wright-Phillips in a scoring slump; Union make credible gains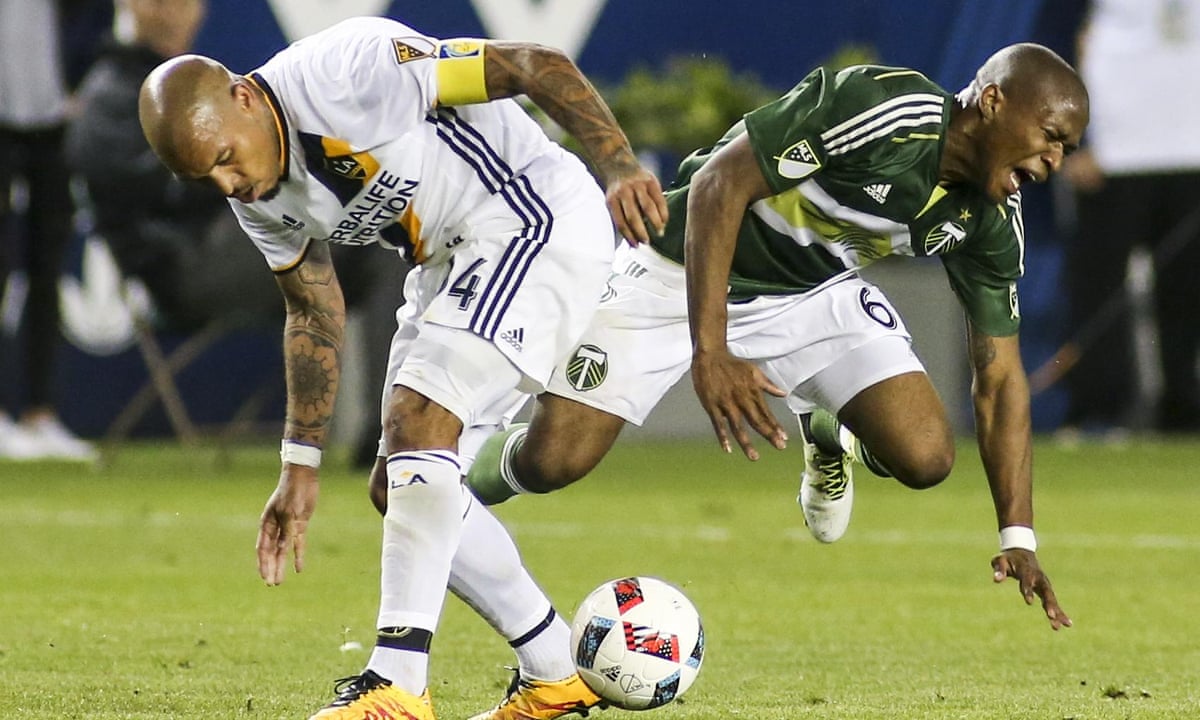 Nigel de Jong hasnt changed
An ugly, scrappy game between LA Galaxy and Portland Timbers might have been a fairly unmemorable encounter were it not for one flashpoint whose repercussions could and should be felt well beyond this 90 minutes.
Late in the second half, with Portland making a rare counter( the latter are absorbing pressure and sitting on a 1-0 result at the time ), Darlington Nagbe tried to skip inside Nigel de Jong, as the Galaxy player lunged towards him. A second afterwards Nagbe was writhing in agony on the turf, while de Jong was jogging back into position from a melee of players, having picked up a yellow card.
It should have been a straight-out red, in a season that has so far been full of them, but which took a sharp turn in the other direction this weekend. That larger point about refereeing consistency is important, but in the specific instance of De Jongs tackle the replays showed a late, studs-up lunge that cleared Nagbe out of the game, and from the appears of it, multiple games to come. Nagbe left the field in a wheelchair with his injured leg wrapped in ice.
De Jong should consider a multiple game forbidding when the Disciplinary Committee looks at the tackle which sparked instant condemnation, even from his own squad mates. Not that Mike Magee had much selection when Fox put him up for a post-game interview alongside Stuart Holden his former US team mate whod had his leg broken by De Jong in an international and who said he felt ill watching the Nagbe challenge. To his credit, a visibly uncomfortable Magee said the game could do without tackles like De Jongs.
Meanwhile there was some sniping between the social media accounts of the respective squads that wasnt much more edifying than the incident itself 😛 TAGEND
It was an ugly objective to a weekend where no red cards were issued. If ever a player constantly deserved one, its Nigel de Jong. GP
DC United might have finally settled on the pitch
Even if they wont much acknowledge as much, perhaps DC Uniteds District Ultras fans group now rue their decision to sit out their squads first half against Vancouver on Saturday. Of course, their demonstration was principled and not based on anything football associated, contesting a one-year prohibit meted out to one of their members, but even still, they must be at least a smidgen regretful that they missed DCs best 45 -minute performance of the season so far.
DC Uniteds display was everything Ben Olsen had promised was coming. Their second half performance wasnt bad either, scoring three times to notch an impressive 4-0 win their first win of 2016. Tensions are rising in the stands, with the District Ultras protest sparking splinter protests around the league, but any smouldering concern with whats happening on the field appears to have been extinguished for the time being.
Im glad we hung in there with that group of guys, and continued to grow, and not panic. I think we are better off for it, Olsen said afterwards, and indeed there was a certain equanimity to his teams play. They certainly didnt have the look of a side that had gone five games without a win, largely controlling the tournament against the Whitecaps.
Read more: www.theguardian.com