The Giant of Provence may merely glower in the distance this time but 50 years after Tom Simpson died close to the summit many will be thinking of him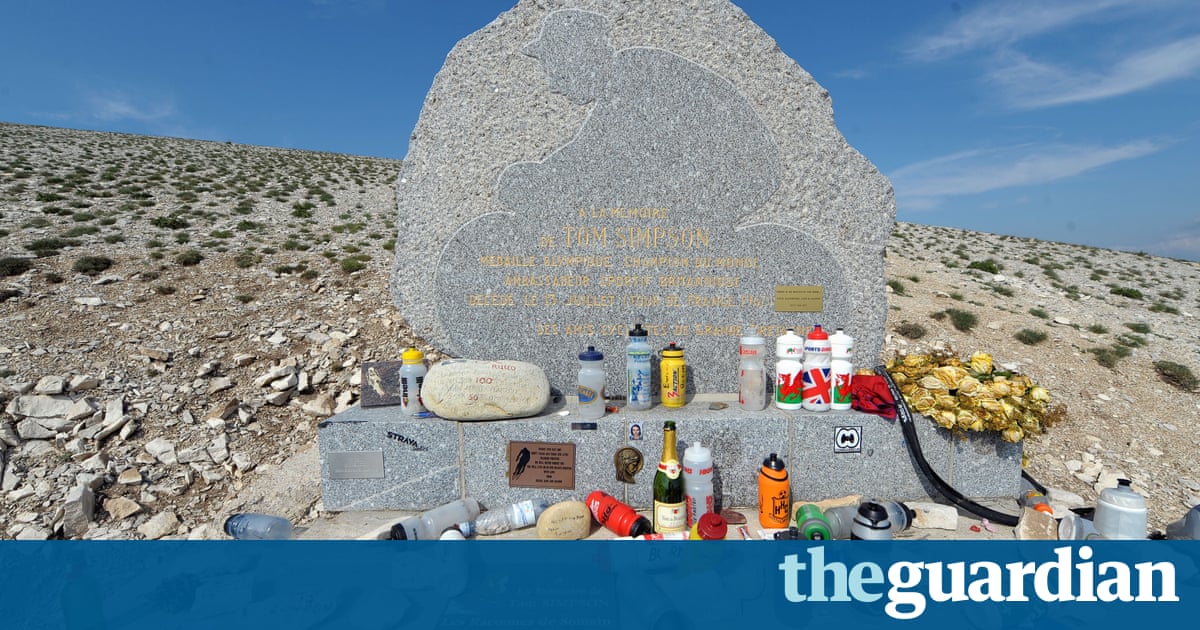 The riders of the Tour de France will not be required to climb the Mont Ventoux this year but they will find themselves unable to escape its shadow. Some time in the afternoon of Friday 21 July, while pedalling through the vineyards and lavender fields of the Vaucluse, they will glance over to their right and assure the Giant of Provence glowering in the distance.
There was a good reason for the Tours route planners to avoid the Ventoux this summer. On 13 July it will be 50 years since Tom Simpson collapsed and succumbed at the roadside merely 1,300 m and a few hairpin bendings from the finishing line at the summit of the mountain. Ever since that day, images of the banks of scree lining the winding ribbon of asphalt have carried a certain sense of menace, even as they shine bone-white for the purposes of the midsummer sun.
There is a memorial to Simpson at the place where he fell, usually covered with mementoes left by visitors who understand its significance. Even the pros arent immune, especially the Brits. In 2009, when a stage of the Tour finished at the top of the mountain, David Millar tossed a cap towards the plinth as he rode by, while Charly Wegelius lobbed a bidon and Mark Cavendish doffed his helmet. Bradley Wiggins, on his style to third place overall that year, rode the climbing with a photograph of Simpson taped to his top tube.
In the foreword to Bird on the Wire, a fine new shown biography of Simpson by the cycling journalist Andy McGrath, Wiggins writes: I felt especially close to him, and I suppose I always will. He dedicated his life for cycling. Wegeliuss reaction is also quoted. I astonished myself a little bit that I felt the need to attain some kind of gesture, he said.
Read more: www.theguardian.com