Peter Sagan has been hurled out of the race and Mark Cavendishs Tour is over after a hideous accident in the sprint finish on stage four left him nursing numerous injuries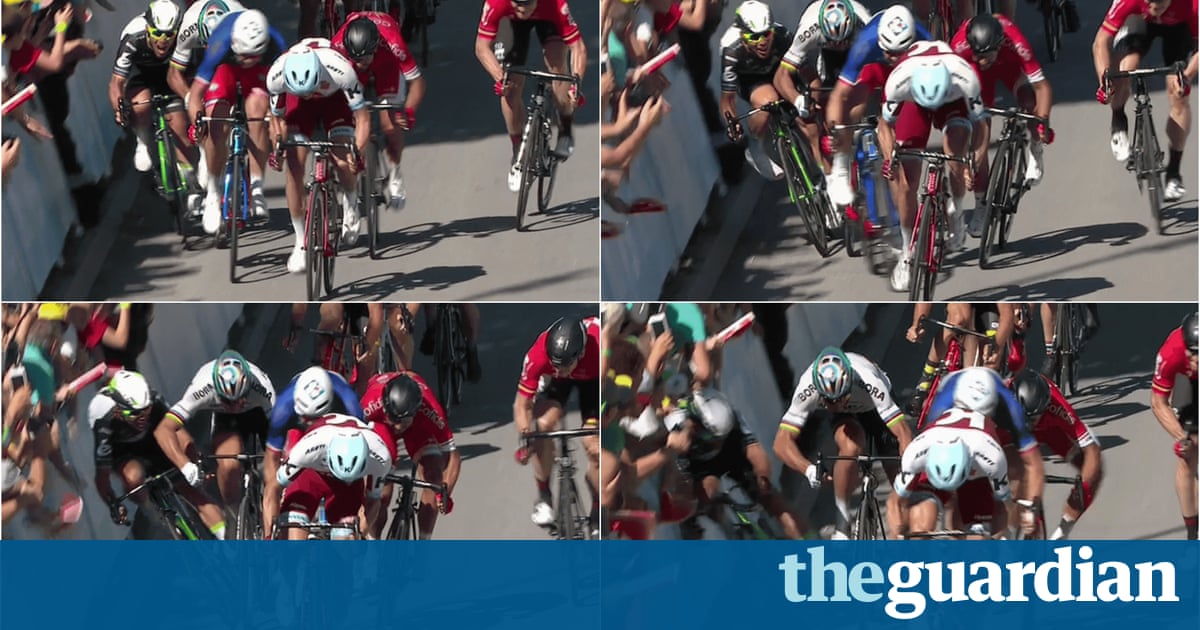 Mark Cavendish has withdrawn from the Tour de France after he suffered a fractured shoulder blade in a horrendous accident 200 metres from the finishing line on stage four. Cyclings governing body speedily disqualified the world champ, Peter Sagan, for a dangerous move in the sprint finish in which he appeared to elbow the British rider to the floor.
Cavendish also sustained a heavy cut to his hand and was taken to hospital for x-rays to analyse traumata to the shoulder he damaged in a similar pile-up at the end of the first stage of the Tour in Harrogate in July 2014. In a chaotic finale, the yellow jersey holder, Geraint Thomas, also fell but to no ill effect.
On Tuesday night it was confirmed that Cavendishs Tour is over. Im obviously massively disappointed to get this news about the fracture, he said. I feel I was in a good position to win[ the stage] and to lose that and even having to leave the Tour, a race I have built my whole career around, is really sad.
Cavendishs sporting director at Dimension Data, Roger Hammond, described the move that led to Sagans expulsion as a flick of the elbow which was completely outrageous. He added: No one comes out of it well. This is a sad, sad day for the sport, Sagan is a hero and an idol of mine but a precedent has to be set.
Read more: www.theguardian.com