The five-times grand slam win is no Lance Armstrong-scale villain but her doping crime was not victimless and she seems not to have learned any lessons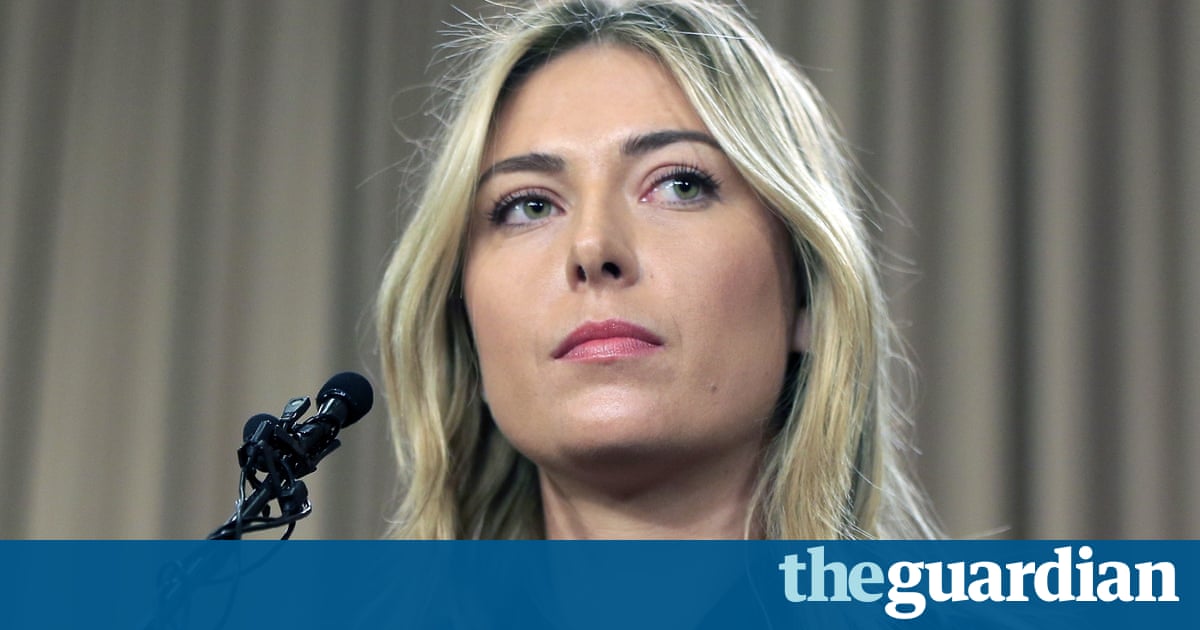 A week or so ago, the legal definition of British prisons was changed: they are no longer places of punishment. The new prison and courts bill, is moving forward by the justice secretary, Liz Truss, proposed that it was more important that they reform and rehabilitate delinquents, and prepare them for a return to society. The news was not universally greeted with Nordic cool reasoning. The Sun called the legislation alarming, while Paul Nuttall, this weeks Ukip leader, said that it beggars belief. Narratives of holiday camp inmates drinking, drugging, even frying steaks in their cells were rehashed.
But it builds you wonder what should be the purpose of drugs forbids in sport? Here, I find myself in an uncomfortable stance: instinctively, Im kind of with Nuttall. I want the doping defrauds to be punished. Reforming and rehabilitating them, ach, less bothered about that. Someones will always use illicit means to improve their performances, but if they are busted, they should know that real, stinging deprivations await them.
And ideally lets go full Nuttall now I would like some contrition. Doping offences are not a victimless crime: most obviously, the legitimate winner or medallist who is presented with their reward years after the event to the voice of no hands clapping. And for us, the sports fans, its just really tedious is essential to replay events you have watched and theorize on what component banned substances played. I had seven years of that with Lance Armstrong, and candidly now Im cooked.
All of which brings us to the return on Wednesday of Maria Sharapova. Of course, Sharapova is not an Armstrong-level villain: she tested positive last year for meldonium, an over-the-counter cardiac supplement which is thought to improve exercise capacity that had recently been banned by the International Tennis Federation. We cant even call her a doper: she was not trying to gain an unjust advantage, according to the court of arbitration for athletic, but had simply made an administrative mistake, failing to read a bunch of emails that were sent to her.
So whats the problem? Everyone skims their emails and we dont have the excuse of being world-class tennis players. Sharapova blundered, she sat on the sidelines for 15 months and now shes free to return. Shes been given a wildcard to the Porsche Grand Prix in Stuttgart, an offer that tournament is perfectly entitled to build. Roland Garros and Wimbledon will presumably extend a similar invitation in due course. Sharapova will be back on the worlds biggest courts, whatever anyones mistrusts, and doubtless as formidable and noisy as ever.
This is only an issue if we hold on, somewhat indignantly, to the idea of penalise offenders. Certainly everything seems to be falling into place rather nicely for Sharapova right now. Stuttgart has delayed her first-round match against Roberta Vinci until Wednesday, the day her outlaw expires. She will have been further buoyed by the news the coming week that Serena Williams is pregnant and will miss the rest of the season. Sharapova, who turned 30 this week, hasnt beat Williams since the Russian was a teenager.
Sharapova is a ferocious competitor and would not have enjoyed missing a calendar year of grand slams, but objectively things could be much worse. Of her major sponsors, merely Tag Heuer dropped her; Nike, Evian, Head and Porsche who, by happy coincidence, bankroll the event in Stuttgart all stuck with her. And during her ban, shes had plenty of frying-steak-in-her-cell moments: she was on front rows at New York Fashion Week, in selfies with Elton John at a tennis event in Las Vegas, glammed up for the Vanity Fair Oscar Party.
Shes also, presumably, had plenty of time to work on her forthcoming autobiography. The title, appropriately enough: Unstoppable .
Where the Sharapova situation is trickier for me is the bit about being contrite. Shes not. She devotes no indication of be thought that she has done anything wrong. In fact, her strongest criticism is saved for the ITF, which she believes should have taken her aside and merely an official to an athlete told her about the positive doping test and worked out how to handle it. Instead, she feels, they chose to make an example of her.
There is a problem here. Tennis has a reputation as a clean sport: nearly all of the very few positive exams have been for recreational drug use. Martina Hingis had a small amount of cocaine in her system; so did Richard Gasquet, although he argued( successfully, bizarrely) that it entered his system after he had kissed a woman in a Miami nightclub and had his ban reduced. Sharapova, in fact, is the first real occurrence regarding a name player and a potentially performance-enhancing substance.
The truth is that, should you be so inclined, tennis is an excellent athletic to cheat at. It is, in Ukip parlance, legendarily soft on crime. With the exception of one journeyman player Wayne Odesnik, an American now banned for 15 years authorities have never caught a player using EPO, human growth hormone or synthetic testosterone. Last year, an ESPN survey of 31 professional tennis players found that almost a quarter personally knew a player "whos been" used performance-enhancing drugs. Two-thirds believed that the sport did not do enough testing.
A World Anti-Doping Agency report in 2014 revealed that the ITF received a comparatively tiny number of miscreants in tennis: one in 985 narcotic tests was positive, versus one in 274 in track and field and one in 296 in pro cycling.
Sharapova has skilfully sidestepped this dispute, though to be fair she has worked really hard during her career to improve her movement. There have been a few growls from fellow players about the decision to offer her wildcards, rather than attaining her earn her ranking phases again disrespectful told Caroline Wozniacki but they have been easy enough for tournament organisers to ignore. Theres a countdown to Sharapovas return on her Twitter page, almost as if a gross injustice will soon be overturned. Im a gentle spirit, she has told us. Im not made of indignation, hostility or resentment.
Im not made of anger, resentment or bitternes either, but why, then, does it feel as if no lessons are being learned?
Read more: www.theguardian.com