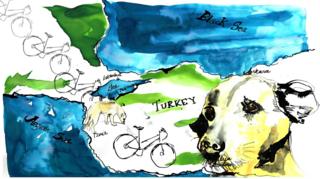 Adventure cyclist Ishbel Holmes has vied for Iran and travelled solo around the world, but her early life was difficult and traumatic. Thrown out by her mother at 16, she found herself homeless and beset by suicidal thinks. When she was made to leave a homeless unit five years later, she realised she had to make a change. She started cycling and set off round the world – leading to an encounter with a stray dog that was to transform her life forever.
One of my earliest experiences of being on a bike was in Manchester, when my dad used to cycle across the city to get a 20 kg bag of potatoes that was a few pennies cheaper. I was still in nappies, and I used to sit in a little seat beside his saddle with the potatoes behind me.
My dad was studying there when he met and fell in love with my mum. It was the time of the Iranian revolution, and Iran suddenly stopped pays to overseas students, to try to encourage its nationals back. Merely like that his fund dried up, and the bicycle promptly became an important tool for survival.
When I was two years old, we moved to Scotland so that my dad could find work. But the matrimony didn't work out and they separated.
One time when I was visiting dad, an acquaintance of his asked me to sit on his knee, and ran his hand up my leg. I must have been around seven years old. After that I just remember feeling very bad. I felt like I was this awful, terrible girl. I think that was when I actually started hating myself.
My dad visited one more time after that and then he disappeared. I thought it was my fault that he left.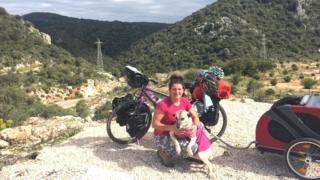 As my two brothers and I grew older, my mum increasingly struggled to cope. She began to blame all of the family's problems on me.
Things between us were miserable and tense, and I withdrew even more. As my sixteenth birthday approached, I was deeply anxious, knowing this date was when my mum would no longer be responsible for me.
As I dreaded, shortly after my birthday she chucked me out for good. When she shut the front door – that was one of the hardest moments of my life. That moment of standing on the steps down to the path, and having no choice but to walk away. It was like slow-motion. I just slowly strolled and kept walking.
Eventually they found me a foster family but all I wanted was to go home. I prayed to every God I had ever heard of for my family to take me back.
One day I was walking back from my Saturday job and a automobile stopped, wanting directions to the lake. It was a group of men. They asked if I could show them the route, saying they would bring me back. I get in the car but they didn't bring me straight back. They took me away and raped me.
I didn't tell anyone because I thought it was my fault. I believed it was me being punished for being "bad". I dealt with it by obstruct it out.
By that time I was used to people doing whatever they wanted with me. I didn't have any self-worth. I didn't eat properly. I detested myself so much I wanted to die.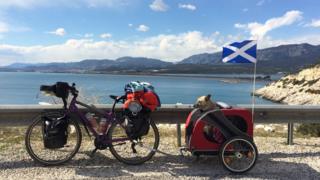 The men came back for me and I refused to get in the car. I ran away. I was so desperate I went to a phone box and called my mum. I was pleading. I was crying, sobbing, saying I would do whatever she wanted.
"I can be the girl you want to be, " I said. "Bad things are happening." I told her what had happened. All she said was that it was my fault and I needed to change.
After that everyone is I wanted to do was die. At one point I was calling a suicide prevention line every 20 minutes.
At 21, I was hurled out of a homeless division. The key worker shouted at me, saying I would always be in the gutter. There was something about her – when she said that – that attained me suppose, "I can't allow this."
I knew I had to make a decision. I had to commit myself to living and not be consumed by thoughts of death.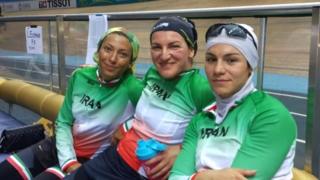 Picking myself up was one of the hardest things I had to do. I didn't simply suddenly turn into Superwoman, I crawled out of where I was.
I enrolled in college. I bought a second-hand bike because it was faster and cheaper than the bus.
I began cycling with a local bike club. I was the only female and I was cycling by myself at the back to start with. Slowly I began to keep up.