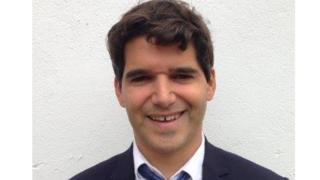 A Spanish man tried to defend a woman who was being stabbed by one of the London Bridge attackers with his skateboard.
Ignacio Echeverra, 39, considered the attack unfolding at London Bridge on Saturday night, and rushed to help the woman.
But there is growing concern for Mr Echeverria, who has not been find since.
The HSBC employee, from Madrid, is one of a number of people who put their personal safety at risk in order to assistance others during the attack, which left seven people dead and 48 injured.
According to his father, friends "saw him lying on the floor on the sidewalk after defending someone with his skateboard".
He is reportedly not listed among the dead , not all of whom have been named by police.
London attack: Live updates Image caption Romanian baker Florin Morariu helped protect people by throwing crates at one of the attackers Image caption Carlos( left) and Giovanni were in a restaurant where an attacker stabbed a woman Image caption Diners threw chairs and bottles at the attacker Media captionEyewitness Gerard: "They were operating and stabbing everyone" Image caption Sunday Express business editor Geoff Ho was injured trying to help a bouncer Media captionDr Malik Ramadhan tells BBC Radio 4's Today programme that the injured were "startled to the phase they couldn't speak" Media captionPaul Ashworth: 'We've got to keep together … the world is falling apart'.