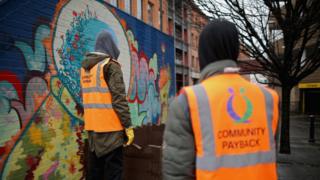 There needs to be a "massive reduction" in the number of people sent to prison for 12 months or less, ministers say.
Prisons pastor Rory Stewart said short sentences made offenders more likely to commit crime.
He also suggested captives released on licence could serve to fill labour shortages in low-skilled tasks caused "partly" by Brexit.
The government is keen to reduce the UK's prison population, which has doubled over the past 25 years.
Meanwhile, Justice Secretary David Gauke told The Times: "Twenty-five years ago the population was 44,000. Today it's 84,000. I would like it to fall."