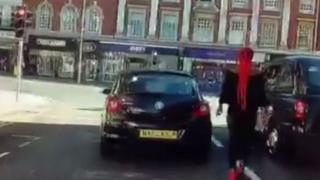 A woman has been arrested following a road rage altercation with BBC Radio 2 presenter Jeremy Vine.
He was riding home after hosting his present on 26 August when a driver tailgated him, beeping her horn.
Filmed on Vine's helmet camera as he rode in Kensington, west London, she can be seen swearing at him and threatening to knock him out.
The Metropolitan Police confirmed a 22 -year-old woman was arrested on Friday on suspicion of common assault.
The altercation took place in a narrow street, with the woman's black Vauxhall being driven close behind the presenter.
Vine, who is about to become one of the new hosts of BBC One's Crimewatch, has declined to comment further, telling the matter is now in the hands of the police.
The woman, who was also arrested on mistrust of perpetrating a public order offence, has been bailed to return to police subsequently in September.

The THINK cycling security campaign advises cyclists to "ride centrally in narrow lanes" They should ride "a door's width" from parked automobiles Drivers should hold back if there isn't sufficient space to pass, and remember cyclists may need to veer out if a car doorway opens in their path