Not only has research funded by the stunt uncovered a gene variant links with ALS, it has also demonstrated the enormous value of scientific collaboration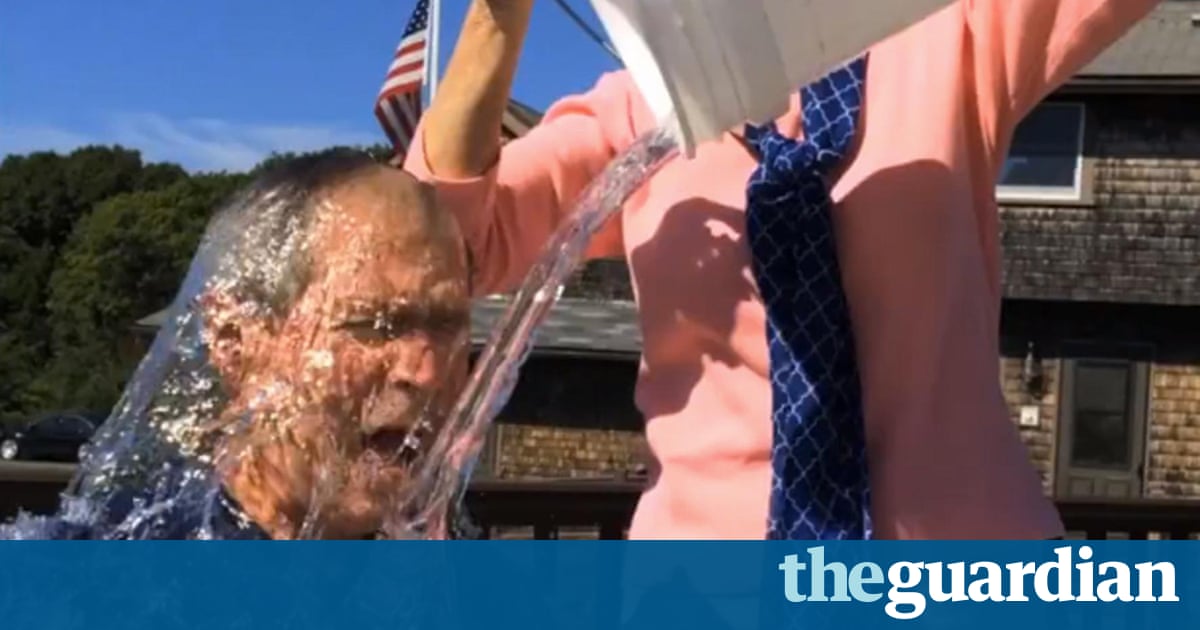 When Bill Gates pulled on a red and white-striped cord to upturn a bucket of iced water positioned delicately over his head, the most immediate believed for many was not, perhaps, of motor neurone disease.
But the ice bucket challenge, the charity campaign that went viral in the summer of 2014 and left ratings of notable persons from Gates and Mark Zuckerberg to George W. Bush and Anna Wintour shivering and drenched, has paid off in the most spectacular way.
Dismissed by some at the time as slacktivism – an exercise that appears to do good while achieving very little – the ice bucket challenge raised more than $115 m (8 8m) for motor neurone cancer in a single month. Now, scientists money with the proceeds have discovered a gene variant associated with the condition.
In the near term the NEK1 gene variant, described in the journal Nature Genetics this week, will assist scientists understand how the incurable disorder, known also as Amyotrophic Lateral Sclerosis( ALS) or Lou Gehrigs disease, takes hold. Once the mechanisms are more clearly elucidated, it may steer researchers on a path towards much-needed treatments.
The work may never have happened were it not for the curious appeal of the frozen water drenchings. The research grants that scientists are awarded do not get close to the 4m such studies necessitated. Instead, Project MinE, which aims to unravel the genetic basis of the disease and ultimately find a cure, was funded by the ALS Association through ice bucket challenge donations.
It was more than money that built certain differences. Jan Veldink, who led the most recent research at University Medical Centre in Utrecht, said that ALS charities in the US, UK, the Netherlands and elsewhere joined forces to induce the project happen. National funding bodies would do well to do the same, he says. It is a call for funding agencies to collaborate and not only fund projects within a few hundred kilometres, to guess globally and synchronise their efforts.
Bernard Muller, a Dutch entrepreneur, was diagnosed with the disease in 2010 and decided to turn his business abilities to finding a solution. In 2013 he founded Project MinE, starting with thousands of untested blood samples of ALS patients that was collecting dust in a lab in the Netherlands.
He said that when he saw the ice bucket challenge play out on social media, he was thrilled, adding that he was honoured that his project was choose as a recipient of funds.
It was one of the most successful campaigns on social media, it came out of the blue, he said. The funding has helped us with research, but it has also had a profound effect on "members attention" not only on the public but also in biotech and pharmaceutical companies – we are seeing more and more thinking that ALS should be a target[ for research ].
The viral campaign was only the start of the crowdfunding endeavour that brought in the research money. It was the first and the largest and the most important point crowdfunding activity, but then there were city swimmings in Amsterdam and in New York, and then cycling events, Veldink said. The only way we could do this research was through those crowdfunding projects.
Millions took part in the ice bucket challenge and submitted to a bucket of iced water being poured over their head in exchange for donations to the charity and the chance to nominate others to follow suit. When Zuckerberg get drenched he challenged Bill Gates who in turn invited Elon Musk, the entrepreneur behind SpaceX and Tesla vehicles to do the same.
Veldinks team of 80 researchers in 11 countries detected the link between NEK1 and motor neurone disease by comparing the genomes of thousands of patients with the DNA makeup of healthy controls.
The NEK1 variant appears in only 3 % of patients, suggesting more genes that raise the risk of motor neurone disease are here to be found. But what is known about NEK1 has already got scientists believing. The gene appears to help repair DNA damage that amasses as we age. That ties in with motor neurone cancer being rare in the under 40 s and ordinarily only emerging when people reach their 50 s and older. Should the new variant of NEK1 work less well, defects in DNA could build up as people grow old. It may be that DNA repair is less efficient than in healthy people, Veldink says.
The ice bucket challenge created more than 7m for the MND Association in the UK. More than 5m went towards research, with 1.5 m going to Project MinE. Research by the Charities Aid Foundation in 2014 showed that, contrary to what some had feared, the majority of people who gave fund in response to the ice bucket challenge donated on top of their usual charity dedicating. The campaign led to a spike in donations in the summer of 2014, particularly from younger people, but overall charity devoting has remained fairly stable in the UK at 10 bn a year.
Sally Light, chief executive of the MND Association, said: Motor neurone disease is a devastating disease and kills more than half of people within two years of diagnosis. Its fantastic that the money raised globally from the Ice Bucket Challenge has contributed towards the discovery of this new gene.
Its another step towards understanding so much more about what is such a complicated disease. A huge thank you to everyone who poured iced water over their heads; their subsistence is genuinely making a difference in our struggle against MND.
Read more: www.theguardian.com