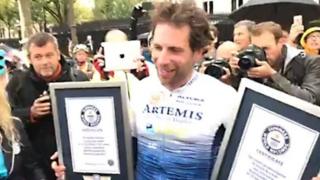 Mark Beaumont has broken the world record for cycling around the world – by 44 days.
The 34 -year-old, from Perthshire, arrived in Paris one day ahead of schedule having cycled the 18,000 -mile route in 79 days.
He defined a new world record of 194 days in 2008. Since then it has been broken by other riders, with the previous record set at 123 days.
To attain his aim, Mark needed to cycle an average 240 miles a day.
He was on his bike for more than 16 hours a day and only slept for five hours each night.