"I came home from college and mum was like, 'I've got some pretty big news'. I just stood there in silence, I was shocked."
Josef Fitzgerald-Patrick is still pinching himself after being named Young Landscape Photographer of the Year 2018.
The 18 -year-old's winning entry is a picture of his friend Russ riding a bike at sundown near where he lives in Cornwall.
"I knew I had had quite a few images shortlisted but I still couldn't believe it, " he says.
Josef, who is studying for a certificate in photography, will now have his winning images published in a volume alongside other amateur and professional photographers in the UK.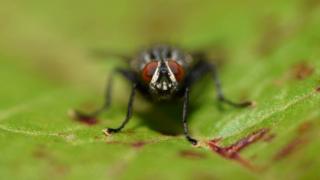 Josef uncovers he use an "exposure blend" to achieve the perfect finish. It involved taking an "extremely illumination picture" and a darker more detailed second image and mixing the two.
He explains: "I was really surprised that was the one that won the competition. I've always been into cycling and it's great being able to combine photography and riding."
Josef emphasizes the patience needed to get that perfect picture.
"There's a lot of planning that goes into it. It's all about checking the forecast, inducing sure the conditions are right.
"I use apps to check the weather and ensure what time and where the sunshine is setting, that sort of thing."
---
Josef's top tips
"The time of day you try to take a picture is really important. Light will change everything. Whether it's warm light in the evenings or direct sunlight at midday. It can really define the object, animal or person you're taking a picture of. How you frame your image. For instance if you're taking a picture of the seascape then remember that the horizon always has to be level. The rule of thirds, imagine your screen is divided into three components then you want to place your images in those one-thirds to make it more appealing to the eye. Whether it's a PS1, 000 piece of kit or your smart-alecky phone – know your equipment. Knowing the right settings or things it can do can be the difference between a good scene and a great picture." Image caption Josef says living near Lands Objective provides some great photo opportunities Image caption Josef has started his own training course around night period photography Image caption The time of day a scene is taken can have a big bearing on the outcome