Despite Chris Froomes thrilling win in the Giro dItalia, questions remain about whether a cyclist with an adverse analytical finding for salbutamol should have been taking part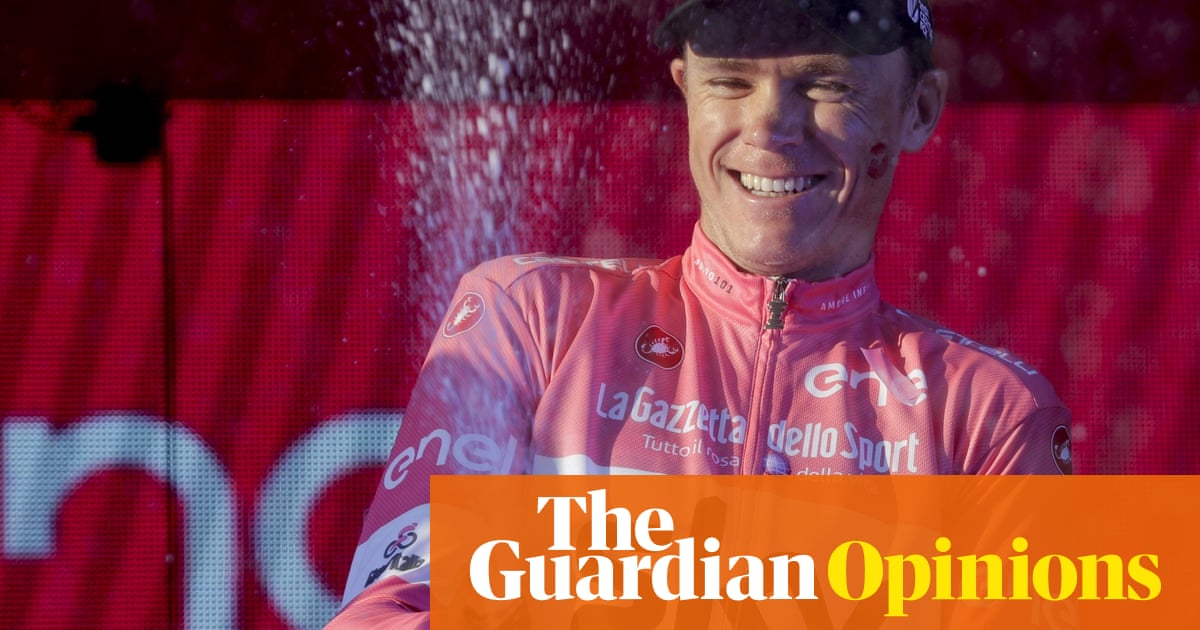 Refreshingly, many of the new generation emerging in cycling are unencumbered by clear memories of the sport's recent past. It is partly in that context that the reaction of the New Zealander George Bennett to Chris Froome's Giro d'Italia winning performance on Friday en route to Bardonecchia has to be seen.
Confronted with the news that Froome had held out over 80 kilometres over three mountains to take the overall result, Bennett- captured on video by his Lotto-NL team's social media people and by the website cyclingnews.com- could not conceal his disbelief." Did Froome stay away? No way. He did a Landis. Jesus !" His reference was to Floyd Landis's astounding comeback to win at Morzine in the 2006 Tour de France, which set up the American as, provisionally, the overall winner, until a positive test for testosterone was announced.
This kind of parallel is the stuff of any spin doctor's nightmares and Lotto-NL promptly issued a statement explaining that Bennett did not mean to cast aspersions." This is not an insinuation but a route to express the admiration for an exceptional accomplishment ," the team said. Bennett, inevitably, was asked to explain himself, which- less inevitably but admirably- he was willing to do." If we can't compare a cyclist to another cyclist, we can't make a comparison to any cyclist in the last 20 years ," he argued just before the stage start on Saturday.
" I'm just saying he made a bigger comeback than Easter Sunday. There's no innuendo. I'm not[ connoting] anything. It's nothing to do with narcotics or anything like that. But if we can't make comparings in cycling, if we can't compare it to Pantani, we can't compare it to Merckx then, because we don't know what was going on there ."
That point regarding the complexity of ranking performance in a athletic that is dogged by half a century of doping is well stimulated but cycling's current ability to tie itself in knots is second to none. On one level Froome's ride to Bardonecchia was the climax of a breathtaking Giro, which watched dramatic breakdowns- Esteban Chaves, Simon Yates and Thibaut Pinot, who abandoned on Sunday morning- and a dramatic reversal of fortune, from a position where it looked as if Froome stood no chance of his third consecutive Grand Tour victory.
On another level this was pretty much what had been feared by those who felt that Froome should not ride the Giro d'Italia as he awaits the verdict on an adverse analytical finding for salbutamol, which he is contesting on the grounds that he has done nothing wrong. The issue is nothing to do with Froome personally. He demonstrated fortitude, moral and physical, in attaining that escape on Friday, he demonstrated breathtaking descending skill and he depicted admirable sangfroid in restriction his loss day by day for the first two weeks of the Giro. If ever there was a race that demonstrated the adage that you may not win a stage race on any devoted day but you must try not to lose it, this was the one.
A Froome win leaves the race result in abeyance pending the ruling. He may keep the win or he may not.
If research results were to be rejigged, however, that act alone cannot rewrite the history of the race. That history was forged by Team Sky and Froome, whose decision to race hard on Wednesday and Friday blew the stands to bits.
It remains to be seen whether the 2018 Giro d'Italia is likely to be yet another race in cycling history with an asterisk against it, yet another which counts for nothing.
It is to avoid putting an entire race in limbo due to delay in resolving an Adverse Analytical Finding that the Mouvement Pour un Cyclisme Credible, the sport's voluntary anti-doping body, insists that its member squads do not field riders facing an AAF in races. As the 2017 winner and Froome's runner-up this year, Tom Dumoulin, pointed out, if it had been him that was contesting a salbutamol ruling, he would not have been permitted to start the Giro.
Team Sky have always refused to join the MPCC.( In the interests of fairness it should be pointed out that Simon Yates's Mitchelton-Scott and the Astana team of the third finisher, Miguel-Angel Lopez, are among the World Tour teams who are not members either .) It is their legitimate right but it leaves them open to the criticism that they are putting their best interests above those of their sport. But in the last 18 months the team appear to have given little sign they are interested in the wider image of cycling, with their response to the tale of Jiffy Bags, lost medical record, the 55 doses of cortisone they bought between 2010 and 2013, and its climax in a highly critical- albeit strongly denied- parliamentary reports of the committee.
It is now five weeks until the Tour de France peloton meets in the Vendee. There is every indication that Froome's salbutamol ruling will not be complete by then. More contortions are in store, quite possibly lasting until late summertime or early autumn. Unfortunately the Giro may be only the beginning of the end game.
Read more: www.theguardian.com