Chris Froome moved a step closer to claiming a third Tour de France crown but Tom Dumoulin won the stage 13 day trial in style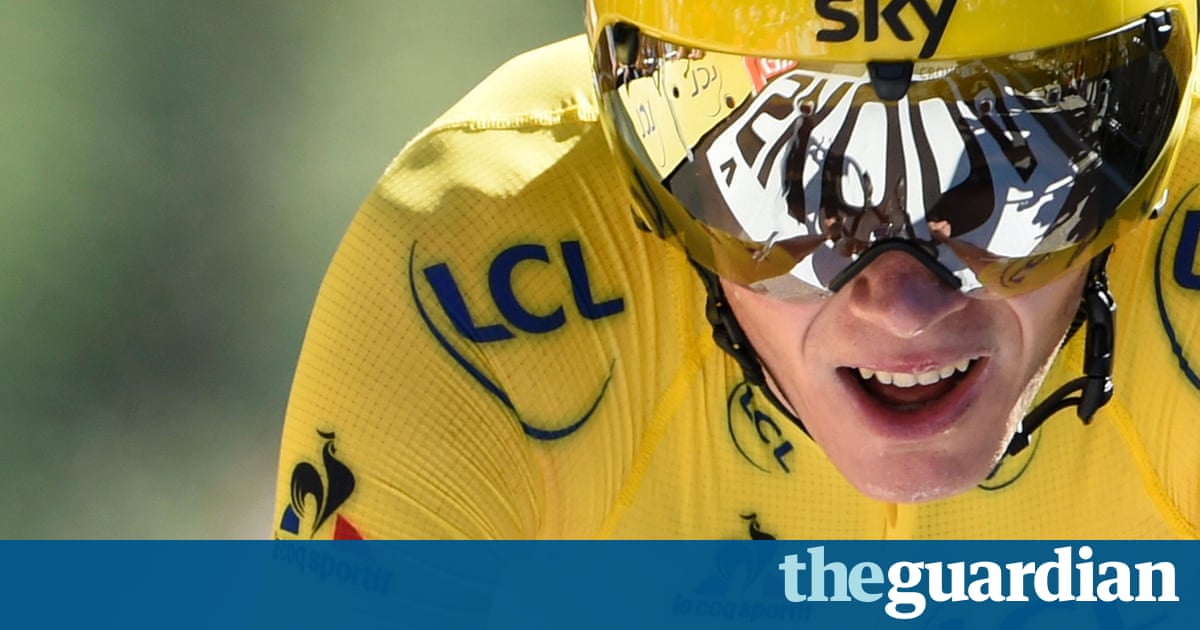 Steadily, inexorably, Chris Froome is building the foundations for a third Tour de France victory. His place in the record books alongside Louison Bobet, Philippe Thys and Greg LeMond is far from in the bag but after widening his lead over all his rivals, and in particular Nairo Quintana after the time trial, the Team Sky rider could hardly have hoped to be in a better stance with eight days serious racing to come.
Froome did not win the stage. That honour went to the Dutchman Tom Dumoulin, who is likely to prove his most threaten contender for the gold medal in the Olympic time trial in Rio. Dumoulin was well ahead, 1min 3sec clear of Froome, but the race leader like his immediate rivals had suffered two extremely difficult stages on Wednesday and Thursday and had fallen over a motorbike and then had to run for several hundred metres on Mont Ventoux the previous afternoon.
Both Froome and Dumoulin spoke of the difficulty of vying on another day of heartbreak and shock for France. Dumoulin said he had wondered whether the stage should go ahead, adding: Im happy with the win but its overshadowed of course. Its a strange day, with very mixed feelings. Im happy with the win, but cannot be happy.
Froome took one question at his post-race press conference. With the curious mixture of dignity and defiance that is uniquely his, he was not prepared to discuss the race, which seemed entirely appropriate in the circumstances.
With the exception of Bauke Mollema and perhaps Adam Yates, Froomes rivals could take scant encouragement from an afternoon spend fighting the wind over the plateau running wests into the Ardche. Mollema had indicated well on Mont Ventoux, appearing to suffer the least in the incident with the motorbike, and had been unhappy with the commissaires verdict. Here, the lanky Dutchman was the only rider to finish within a minute of Froome; as a result, he emerged second at 1min 47 sec, and has a chance of improving on his sixth place overall in 2013.
For a rider who says he cannot day trial well, Yates rode strongly, finishing ahead of Quintana and Richie Porte, who clearly started too quickly and fought late on. The young Bury rider does not look like a day triallist either, with the movement in his torso and hips making him seem uncomfortable on his bike compared with Froome or Dumoulin. I did OK. Im never going to pull time out of the GC guys as day trialling is one of my weakest suits. I felt I had power on the climbs but fought in the crosswind segments. I hope when we get to the Alps I can pull some time back and then fighting all the way to Paris.
Behind Yates, merely Quintana, Alejandro Valverde and Tejay van Garderen are within four minutes of Froome, while Romain Bardet restriction his loss and lies seventh at 4min 4sec. Quintana struggled horribly, never looking competitive and following his ineffectual attacks on Mont Ventoux the Colombian appears worn out. In past Tours 2013 and 2015 he has resurrected in the final week but like the remainder he faces an uphill struggle.
Read more: www.theguardian.com