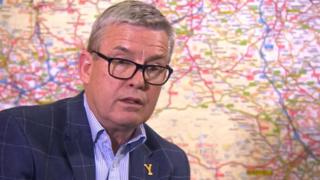 The chairman of a troubled tourism body has resigned.
Ron McMillan has stood down from Welcome to Yorkshire, where two investigations are under way.
Sir Gary Verity, the organisation's chief executive, paid back PS4 0,000 expenditures before resigning on health grounds last month.
Interim chairman Keith Stewart said the body was "committed to making any alterations which may be needed to help rebuild trust in the organisation".
Welcome to Yorkshire said the results of both independent investigations would be known by June.
One. into expenses, by independent forensic accountants BDO, is to go back at least six years and look at all expenditures claimed by current and recent members of the senior management team and board.
The second, by external lawyers Clarion, will examine its culture, governance, procedures and management.
Latest news and narratives from Yorkshire Image caption Sir Gary Verity resigned from Welcome to Yorkshire after 10 years as chief executive