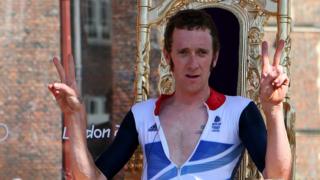 Between the heights of "Wiggomania" in the summer of 2012 and now, Sir Bradley Wiggins has slowly transformed himself as a public figure, preparing the road for his post-Rio career, writes Alex Murray.
In 2012, "Wiggo" became the first British man to win the Tour de France and Olympic gold in the same year. Not bad for a working-class son, raised by a single mum in north London.
The haircut, sideburns and long frame, the dry British witticism and spiky, rock'n'roll personality – as well as the litany of achievements – in brand words, it's a win combination.
But while other sporting starrings swapped the golden glow of London for endorsing everything from mineral water( Sir Chris Hoy ), to meat replaces( Mo Farah) and life insurance( Jessica Ennis-Hill ), there were very few products associated with the Wiggins name.
It wasn't that he didn't have relationships – fashion brand Fred Perry and his team sponsor Sky, among others – it's simply that he's not a face-on-a-cereal packet type of sportsman.