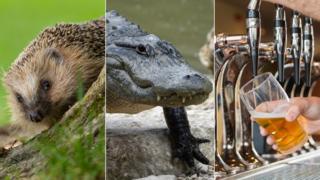 April Fool's Day is a time when people across the UK indulge in their silly side and trick household, friends, colleagues, and complete strangers – to the pleasure of some, and the irritation of many.
The tradition is also a chance for trusted broadcasters and newspapers to hoodwink a nation, like in 1957 when the BBC's Panorama programme put out the spoof documentary on Switzerland's "annual spaghetti harvest", presented by Richard Dimbleby .
So on 1 April, can the British public trust the more far-fetched narratives in the working papers?
Here is a round-up of the more suspicious, but actually true, tales.
1. Road signs warning drivers not to run over hedgehogs could be rolled out across Britain. The population of the prickly creatures has plummeted and Parliament's official Hedgehog Champion( who is also the transport secretary) wants to help save them.
More details( The Mail on Sunday)
2. A human who was stabbed in the back during a saloon brawl returned to the bar to have another beer. The victim's knife was still in his back when he returned to the saloon in Queensland, Australia, and went to hospital afterwards. He is in a stable condition.
More details( Sunshine Coast Daily)
3. A cinema about "middle-aged men in Lycra" is being released in UK cinemas next week. That's right – the unlikely hero of a new documentary is the so-called "Mamil", also known as men who cycle.
More details( The Guardian)

You might also like 😛 TAGEND BBC Breakfast autumns for newspaper's April Fool's Day Brexit joke Parents buffoon children with Easter 'treats' The woman who gave birth to rabbits( and other hoaxes ) Sixty years of April Fools on the BBC